The reason I love height is:
Vintage cloths. Hippies. The atmosphere.
ヘイトストリートで好きなのは、ビンテージストア、ヒッピー、あとなんだか独特の空気。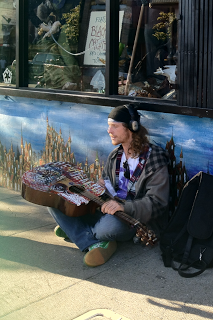 Being in San Francisco does not make me feel exotic in terms of fashion anymore.
It's maybe because I used to live in Silicon Valley for a while, or maybe because most of big apparel companies have brunch in Japan.
シリコンバレーに滞在してたからか、メジャーなブランドは日本に参入しているからか、サンフランシスコだとファションに関して特に「物珍しさ」は感じられない。
But here I feel exotic.
I guess it is the EDITION. The culture they edited for decades. The town itself has the color. FREEDOM. ART. MUSIC. (we*d). HIPPIE.
でもヘイトでは感じる。
きっと、"編集"の仕方かな。彼らが何十年も掛けて作ってきた文化。自由、アート、音楽、ヒッピーっていう街の色がある。
Well honestly I felt less exotic than before, since they have normal stuff too, but I hope they keep the atmosphere.
Culture, atmosphere, whatever it's called, the invisibleness has a strong meaning, and something attract others.
といっても、昔よりは珍しさが減った気がする。他のところにありそうなものも置いてるし。でも、あの空気が良いんだよね。
Stay hippie, height.