本日、3月23日発売のGINGERに、Pinterest Japanでのモデル撮影、そして社員ファッション撮影が掲載されました。
「トレンド重視なカジュアルOL」特集のなかで、モデルのAlexaちゃんがなんとわたしのコミュニティマネージャー役をしてくれているのです。
下記のページ以外にもございますので、ぜひお手にとってご覧ください♩
表紙は、憧れの長谷川潤ちゃん!
おしゃれで美しくて、これでママ。わたしの周りでもファンがとても多いです。
GINGERという雑誌自体、キャリアがありファッショナブルな媚ない30歳をターゲットに作ってるような気がする。
だからといって、気張りすぎてるわけでもないので、わたしの周りの女性たちからは支持されています。
オフィスの紹介と、Pinterest社員の紹介。
わたしはトレンドのスカーフ使いをしてみました(照)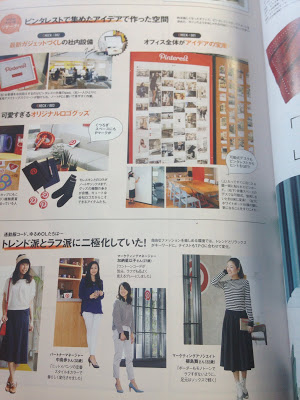 モデルのAlexaちゃん、コミュニティマネージャーの役です!嬉しい。
GINGER is a popular magazine for late20's -early30's trendy millennial  ladies with high career. It contains lifestyle, fashion, food but mostly fashion.
Now on this May issue, we were on the fashion feature pages:  "trendy casual office ladies style".
In the feature, the model acted as "Pinterest community
manager", and it gave the explanation of Pinterest and community manager's work.