海外にいるときは気を付けろってよくいわれるけれど、わたしはいつもより無防備になってて、それは少しいつもの反動。
まぁ基本的に東京に居ても私はいつも好きにしてるんだけど。最近は特に。
でも、無意識に感じる社会的なプレッシャーから、自分を解くときの快感。
このプレッシャーって別に悪いものじゃなくて、人間関係がある限り必ずある「そこで果たす役割」。
別に職場でも家族でも友達でも人間関係でも。社会的な期待。
でも特に、海外で一度生活したひとや自分の田舎から出てきた人ならば、おそらく目に見えない泡のようなもの、といったら通じると思う。気づかないうちにどんどん厚くなる、泡。
もちろん東京に居ても自由にしてるけど、
海外にいると余計その"期待≒プレッシャー≒規範"から自由になる。
People say "Be careful when you are out abroad", but I am care-free(not carefully) in someway, when I am out there.
This is my small resistant from
ordinary life.
I think
sometimes we need to free ourself from the social expectation we have. We all
have roll in each community and expectation. The expectation itself is not a bad thing. But  if you have lived away from home, or lived in the different country, you know what I say.
The expectation can be bubble- You do not even realize there is a expectation or social pressure.
I think I
live free even I am in Tokyo, but while I am abroad, I am even freer from it.
というわけで、台湾経由で香港におります。
台湾には一泊だけ。
この一泊ホテルで寝るだけじゃつまらない!ということで夜市にくりだしてみました。
台北市内から少し離れた桃園市にあるところだったのだけれど、おもしろい!
6時からはじまって夜中1時まで。
So I came to
Hong Kong via Taiwan. In Taiwan,  went out to the night market .
中国大陸6都市くらいを出張+1都市旅行で行った事のあるわたしには、中華圏の人は英語が話せないというのが前提になっていました。
でも、台湾人はみんな英語上手!癖もなくて聞きやすい。
I have been to China almost 6 cities, I had the conception: Chinese do not speak
English. But here in Taiwan they do ! They are so good!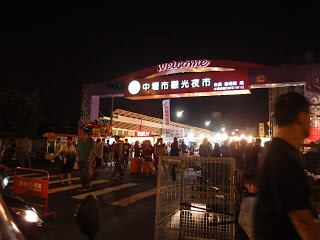 夜市は、ごちゃごちゃ!
月曜の夜からよくもこんなにっていうほど盛り上がっていて、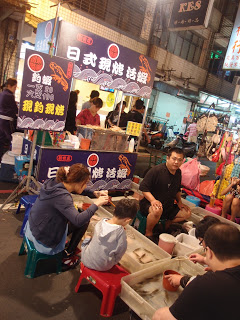 スマホのカバー、Tシャツ等の洋服、アクセサリー、サングラス屋、ネイルショップ、あとゲームのお店もある。1キロくらいも続くそのお店を、屋台が両側に囲んでる。屋台はもちろん台湾式のヌードル、ごはん、スナックがほとんど。ジューススタンドもあった。でも中にもお寿司やたこやき、タイフードも!タイ料理は人気みたい。逆にホットドッグとかフライドチキンというようなアメリカンなものはみなかったなぁ。
Everything is mixed and wild in the night market. There are stands for smartphone cover, T-shirts or some cheap clothing,accessories, sunglasses Nail store, game.
On the right hand you see the stands for food- Taiwan noodle and snacks of course, Japanese takoyaki, Sushi , Thai food were there too. I did not really see the American snacks as hot dog or fried chicken. I guess Taiwanese young people's taste is not that westernized, if these stands show what locals eat.
パン屋さんは全部で一つだけだった。パンはあまり流行ってないのかな。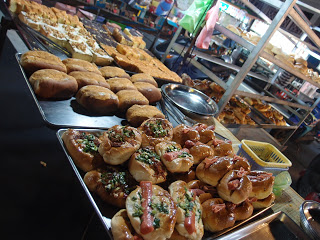 さて、さっそくストリートスナップを。
このエリアは夜市ということで20代の若いカジュアルな子がとっても多い。
めかしこんでくるわけじゃないけれど、素敵な子をスナップさせてもらいました。Here we go, Street snaps!
This area people come out with friends or boyfriends/girlfriends but very casual. They are not dressing up for this, but I found some nice girls or boys.