ネパール到着直後から、私はうきうきしてた。というのも二年前のインド出張中に買ってもらったサリーを持ってきたので、はやく着たくて!
ネパール紀行のMISSIONである、サリーを着て、ネパール婦人のふりをするを実行したかったのです。
Soon after I arrived at Nepal ,I was excited to wear Saree which I got in Indian Business trip 2years ago.
To wear it and behave like Nepali women was one of my TO DO LIST on this trip.
一昔前までネパール女性の服装と言えばチョロを着て、サリーを身に着けるというのが定番だった。チョロとはネパール女性独特の、日本の着物のような立ち襟の衣装。
でも、現在都市でサリーは特別なときに身につけるもの。現代女性が毎日着るものではないんだって。
「感覚としては、浴衣か着物かなぁ」と日本で9年暮らした事のあるネパール友人のマノジさんはいっていた。確かに、年上の女性は頻繁に着るし、若い都市の女の子はそんなに着ないという点では、ぴったりかもね!
They used to wear  Cholo, which is like a Japanese Kimono tops, with Saree on the top. But nowadays they wear it only special occasion. It's not everyday-clothing anymore.
"Yukata ,japanese summer kimono may be close to Saree", Said Mr.Manoj, our Nepali friend.
特にサーモンピンクのシルクの生地に金糸がはいったこのサリーは、パーティや結婚式のときに着るものだという。「俺の隣を歩いてたら、お嫁さんだと思われるよ」と!驚
ナイロンのような生地にスパンコールがついたものが、洗濯しやすく普段使いらしい。
Especially mine salmon pink silk with golden thread is for parties or wedding.
They usually wear nyron saree with Spangles.
一人では着れなかったので、ホテルのスタッフに手伝ってもらった。
手慣れた手つきでタックを作り、体にぐるっと巻き付け、ものの3分くらいでこの姿に。
最後に安全ピンを3つほど使い、ずれてくるのを防ぐ。
脱げちゃったら大変だからね!
A lady at the hotel helped me out to wear. I was impressed how smooth and quick she made tacking.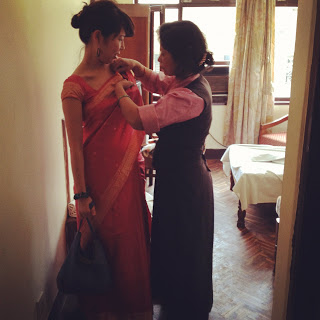 街で。
サリーがすばらしい点は、一枚の布ということ!これが落ちてこないように綺麗にストールとスカートのようになるのには感動した。
お腹は少しみせることになるけれど、日よけにもなる。
あ、ちなみに一枚と行っても胸のあたりには別のものをきてますよ!
これみるとわかるかな?お昼、≈を食べながら。
You see it is made by one long cloth. but I also wear the separate tops. You see the picture below, when I was eating  typical lunch food, Dal bhat.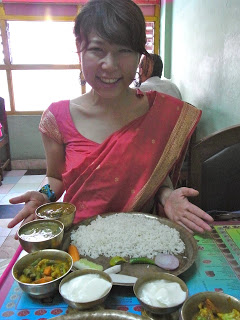 また、額にはTikaを。インドではヒンドゥ語でBindiと呼ばれています。
これも、普通は既婚者がつけるようなので、私たちは単にコスプレという事ですな☆
でも、町中で若い子もつけていたなぁ。
Also we put TIKA on the forehead. TIKA is called Bindi in Hindu.
As a rule it's for married women , but we see many young girls have it too.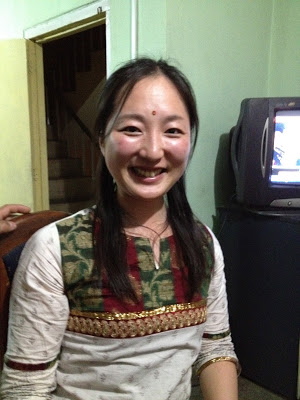 _
形もいろいろ。ナホは、マノジさんのお母様に貰った丸いものをつけてる。
私は途中のお店で買った、楕円型のもの。
We found many different shapes of Tika.
Mr.Manoj's mom gave Naho the round one.
I got the oval shape on the street.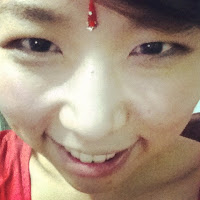 翌日。
Manojさんのスタッフの方が、三つ編みにネパールの飾りSachikaを編み込んでくれた。
Next day, Mr.Manoj's assistant helped me waive the decoration SACHIKA in my hair.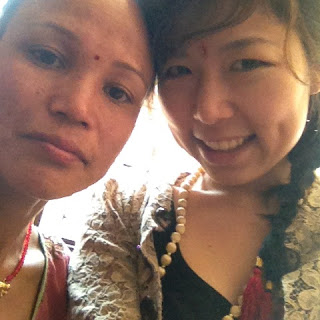 これも,赤だと既婚女性の意味があると後から聞きました。
なので、一日私は既婚ですーといって歩いていたようなもの!
The red sachika means that you are married, I just heard today.
ネパールの人が身につけるものには、「意味」があるのが面白いね!
特に、既婚か未婚かを見分けるような意味での装飾が多い。
ネパール人はシャイだから、未婚とわかりやすくして、男性が言い寄りやすいようにしているのかしら???
みんなはどう思いますか??
日本でも、着物で既婚/未婚を見分ける方法があるようですが、あまりそれ以外の洋服では見分けがつかないと思います。
この未婚、既婚の見分けはアジア特有なのかな??
だとすると、欧米化してこういう意味が消えてしまうのは、とっても悲しい。
メディアの影響で欧米化した部分もたくさんあったけれど、こうゆう美しい風習はいつまでもとっておいてほしいなぁと願ってしまいます。
It seems like nepali has meaning on each decoration, especially meaning to know if the girl is married or not .
I am guessing it is making easier for the shy nepali young couple to get closer. What would you think?
In Japan we also have the differentiate married or not by the way you wear kimono.
I wonder if this custom for Asia or not.
Even though the wave of westernization can not be avoided for Nepal, I wish they keep this beautiful habit for long, as I know this is totally perspective from outside.